Thank you for all the kind words! We work hard to earn them!
The Animal Nanny has given consistent, helpful service to our family. Our dog is happy and healthy thanks to his daily walks. Marna has been great at making sure our schedule is covered by caring, honest walkers. He gets lots of one on one attention. Thanks for making things easy!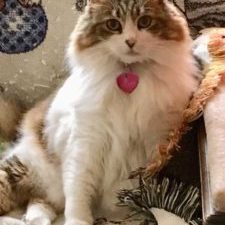 I've been using The Animal Nanny service for several years now, which gives me the freedom to travel without worrying about the care of my cats. I have 2 indoor and 2 garden cats who now enjoy the company of their Nannies and don't seem to miss me as much when I travel. During the time I've used this service, I've had a few different Nannies over the years and have been happy with each and every one. Not only do they come and keep my cats company, they medicate as needed, feed and water them, play, brush and give them attention, but they also bring in my mail, newspaper, packages, water plants, etc. I'm grateful for the service which allows me to travel more frequently without worry for my cats' care. I highly recommend The Animal Nanny.
We have been clients of The Animal Nanny for many years. They are always responsive to our requests and communicate in a timely manner. The sitter picks up the mail, waters plants while with our dog, Paris. We get daily updates while gone, which helps a lot. I have no problem recommending The Animal Nanny.
Gloria Rollerson, Union City, CA
Whenever we have to be away, the Animal Nanny has taken care of our pets. We have had two German Shepherds in succession for a cumulative life span of 19 years. After our beautiful and sweet Oskar and then Rocky passed, we were blessed with a cheerful and happy Sun Conure who is now 5 years old. We have continued to rely on the Animal Nanny for their expert services for our precious "Marley Bird".
Marna and her team are thoroughly professional. They never missed an appointment, are reliable, trustworthy, compassionate and loving to our pets. They treat our pets like they would their own. During Rocky's last days, Marna and Sheri were caring for him. They noted symptoms of his quickly failing health and, during our absence, took him to the Vet for treatment; until we could get back. Marna's knowledge of animal pathology is impressive. Her recommendations for his care were "spot on".
We travel frequently sometimes overseas and are secure in knowing that our pets will be in good hands. We used to receive updates via email. The past couple of years we receive pictures of our pet Sun Conure whenever Animal Nanny comes home to provide care – a really nice touch to keeping their services updated. On-line billing is efficient and easy. We highly recommend the Animal Nanny, without reservation, to anyone looking for a loving animal care- giver.
Mustapha and Kamroon Baksh, Fremont, CA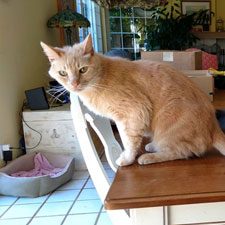 My two cats and I have been happy clients of The Animal Nanny for nine years. The loving, caring and dependable Nannies have given me the peace of mind to be away from my boys for weeks at a time without a concern that they would not be well cared for. I love receiving emails with pictures of my boys in the visit reports and it is obvious that they look forward to their Nanny's visit! Marna and her team have even stepped in when some emergency arose at the house and went above and beyond to deal with issues while I was traveling. I cannot recommend them highly enough!
Nancy Pecota, Fremont, CA
Our Fremont family has been a long time client of The Animal Nanny. We have had many dog walks, dog park visits, and overnights. All of our Nannies have been caring and responsible: we have always had a scheduled Nanny show up when asked. The Nannies make a connection with our pets, and we often run into the neighbors who know our dogs Wayne and Garth from daily walks with the Nannies. The Animal Nanny has also been able to accommodate dog walks when our guys stay with their grandparents in Pleasanton. Wayne and Garth have had the best of Nanny care since they were puppies.
Wayne, Garth, Liz, Mike, Paloma and Elia, Fremont, CA
The Animal Nanny San Francisco has cared well for four of our cats for many years. They're dependable and trustworthy. I like how they leave notes describing how the cats fared while we're gone. Scheduling and paying online is quick and easy.
Jennifer C., San Francisco, CA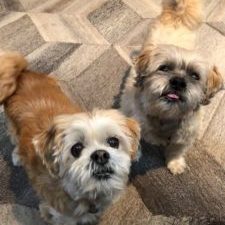 We wholeheartedly recommend The Animal Nanny to care for your pet(s). We have been with The Animal Nanny for more than 13 years and rely on their reliable service mainly for mid-day walks while we're both at work. We've also had them stay in our home for some weekend overnight visits. We have had the pleasure to interact with numerous nannies over the years and the transition from one to the other has been seamless. They also back each other up so we can always count on their service.
Each Nanny has been well-loved by our two dogs. They care for our pets as much as we do and provide us helpful feedback on how they're doing when we're not there. The Animal Nanny is a part of our family and would be a welcome addition to your family as well.
I have used The Animal Nanny services for over 10 years and they have been a blessing to me during my times of travel. I can leave home KNOWING my pets are in good hands, KNOWING my home is checked on, mail put in the house and I don't need to worry.
I have had a few nannies over the years but each has taken very good care of my pets. I follow The Animal Nanny on FB and in the past received emails about my pets and how they are doing. My pets love my current Nanny and this brings comfort and relief to me.
My travel has taken me out of the country 12 to 16 hours away from home - knowing my pets are cared for when I'm so far away is a blessing. Leaving your pet home while traveling for business or pleasure can be stressful and The Animal Nanny has taken that worry off my list.
Brenda Torres, Fremont, CA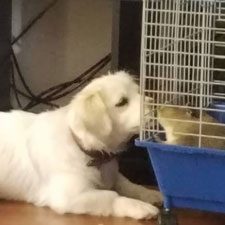 Finding The Animal Nanny has been a life-saver. I am now able to go on vacation or take necessary trips without having to go through a whole operation to find people to take my dog and guinea pig. In addition, having an in-home service allows them to stay in their routine environment, prevents me from needing to pack them up and also makes sure my home basics are watched over like packages, garbage cans and watering my plants. I like that my pets are not exposed to cages and too many animals in one place as well as don't risk losing their potty training by being indoors all day. On top of that, you can even order their service online. And having my dog at home also gives me a little more reassurance that the house is not empty when I am out of town. It is truly super convenient!
My family and pets have been clients with The Animal Nanny for well over 15 years. It's always been important for us to have reliable pet sitters, when we go away for vacation. We originally had one dog (medium size rescue beagle), two tortie female cats, and a goldfish or two. We now have just one dog, one cat, and one goldfish. We have used The Animal Nanny at least 1 to 3 times a year, for about a week at a time.
We have always found the service easily accessible and the Nannies trained, flexible, and friendly. Any time an issue or concern came up, it was resolved in a timely manner. The service was well worth the attention and care the pets received. It really was reassuring for both us and our pets, to have things set up ahead of time, and instructions in place prior to The Animal Nanny coming. The Nannies picked up the mail, made the house look occupied, took good care of our pets according to instruction; and on the last day left an informative note to us about how our pets did while we were gone. The Animal Nanny has also started a pet journal on line, so you can communicate with The Animal Nanny, on line if you wanted to.
It has made all the difference to have The Animal Nanny available when we went on vacation. We love our pets, and we want the best care for them when we are away; we have found The Animal Nanny to be the one we will always use.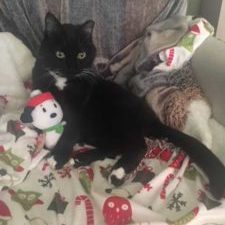 My husband and I have been happy clients of The Animal Nanny for about a decade now. From the first moment that Marna came to our home for her meet-and-greet with our cat, Violet, we were blown away. The attention to detail and care that went into that initial meeting both impressed us and put our minds at ease that we were absolutely making the right choice with The Animal Nanny as our pet caregivers.
I cannot put into words how comforting it is to know that, when we're not home, Violet is being well taken care of. We especially appreciate the practice of, usually, having the same Nanny each time. Violet has developed a genuine rapport and affection with her regular Nanny, Catherine. Catherine even brings Violet new toys from time-to-time which Violet absolutely loves! We also value the end of visit "Nanny's Notes" which tell us everything we could possible need to know about how Violet was while we were gone: eating habits, bathroom habits, play habits, etc.
Beyond the excellent care Violet receives, there is the peace of mind that comes with someone you know and trust checking-in on your home each day. Further, if asked, the Nannies will also bring in your mail, turn on/off lights and heating, water plants, etc. Specifically, our Nanny at the holidays always waters our Christmas tree, which is awesome!
Basically, we cannot say enough good things about Marna, Catherine, and everyone at The Animal Nanny. We wholeheartedly recommend them to any pet owner.
A & B Malloy, San Francisco, CA
Since we came home on Sunday, the week has been a swirl of work & personal commitments, but all week I have been wanting to write you and let you know how much we appreciate all the wonderful pet sitters you have assigned to stay with Rudy & Miss Pearl. It is a true comfort to us to know that while we are away that Catherine, or Andrea, or Kathy or yourself are taking such kind, good care of our dogs — and not only are you and your team taking wonderful care of our animals but every time we return from our travels, our home is clean & tidy! Thank you to you & your team's for your wonderful, thoughtful service.
The Ryans, San Francisco, CA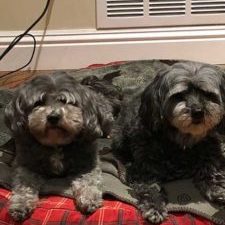 A year ago, I moved to a new neighborhood, saw my (adult) kids move on to college, and changed jobs to work outside of San Francisco. At that point, I suddenly needed help with my wonderful but aging dogs (then 13 and 16 years old). After researching and calling many different groups who offered dog walking and other services, I settled on The Animal Nanny. And it is really a stroke of luck that I did. I could not recommend a dog service more highly than this company. There are several reasons. First and foremost, Marna and her team are very savvy and loving about dogs and the people who need their services. My dogs (and I) are incredibly well cared for – the walkers leave notes each day to let me know how the walk went and are careful to fill the water bowls. When one of my dogs had a baffling inner ear issue, they provided me even more input on his status. Second, the service is totally automated so that everything from payment, to renewals, to cancellations, to updates about the dogs' health are easily and quickly communicated. Marna seems to be on the job 24/7! Third, when I have had to be away on business or vacation over night or more, The Animal Nanny team is there for me and my dogs. In the past, when my dogs were younger, I would put them in a kennel. However, now I don't feel comfortable with that option. Instead, one of the team comes to my house and ensures that the dogs are well cared for and without unnecessary anxiety. The team are incredibly reliable and respectful of my home; I trust them completely. And I cannot imagine using any other service in the future.
Patricia T., San Francisco, CA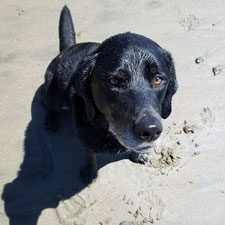 We have been using the Animal Nanny for years now, and it is absolutely perfect for Zak. I was initially drawn to the Animal Nanny because Zak gets stressed out staying new places and in new environments, and so having people come over to our apartment to take care of him -- as opposed to boarding him or having him stay at someone else's place -- seemed ideal (and it has been!). What has really kept us going back, though, is how great all of the "Nannies" have been with Zak. He absolutely loves Catherine, and Yukiko, and everyone else who has come over to feed him, take him on walks, and spend time with him. I know he is well taken care of every time we go out of town, and it is so nice having a service we trust that we can always use.
Alex Christopher - SF, CA
Ready for your own Animal Nanny?